This is our 2nd Guest Post here on Uncorked Ventures.  It's been said that 98% of wine is consumed within 48 hours of purchase, so not many people are holding wine for long….but that being said, I know a few of our customers do, do so. Thus, the interest in publishing at least a little something about a wine rack, or in general, wine storage. If you're interested in sending us some information about writing here, please take a moment and read our write for us page, you'll find the relevant information there.
Creating a Beautiful Wine Storage Space in Your Home
Do you have a small (or large) collection of wine that you're not sure how to keep well? There are lots of options today for home wine storage. This article will go a bit into the best environmental conditions for keeping wine, and then share some ideas for choosing the right wine storage unit for your home.
Optimal Conditions for Keeping Wine
The ideal temperature for storing wine is 45-54 degrees(A note from Mark Aselstine of Uncorked Ventures: generally I think 45 degrees is too cold.  Established norms in France for first growth Bordeaux run from the ideal of 55 degrees which is about where our warehouse is, to close to 70 degrees. The easiest way to think about the aging of wine in my opinion, is to think of an old French Chateau built about a millennium ago, it does not have central heat and it's generally pretty darn cold during the winter and also pretty damp in the warmer summer months because it is close to a major waterway….in essence you want your wine storage to keep everything cool, not cold and damp but not wet so the cork doesn't get ruined which Jeriann has explained well), depending on the type of wine. You usually want a humidity range of 60-70%. This is why basement cellars are so popular, because they are often cool and humid.  Wine fridges can be great for short-term storage, especially for white wines, but if you are aging wines, refrigerator will not likely provide the amount of humidity your wine needs. Also, don't keep wines in your regular refrigerator for the long term (more than a couple weeks), as corks are porous and scents from other items in your fridge can leak through and change the flavor.
When choosing a space to store your wine, think about what area in your house stays the coolest and is the most consistent in temperature. You can always buy wine cooling units to control the temperature and humidity, but in order to save money and energy; you still want to pick the spot in your house closest to optimum conditions.
Wine Racks
There are a lot of wine racks out there, so it can be hard to decide what kind you want. There are wall hanging racks, large shelves, and even racks that double as a tasting center like the one above. It's important to think about the size of your space, as well as how much wine you typically have around. Tasting Centers are great because they offer lots of storage as well as a place to pour. You can even get a glass rack to hang from the top! I also love that you can pull out certain shelves, and that most of the labels are visible at a glance.
Once you decide the general size and shape of the wine rack you want, you have to decide whether you want to buy one or make one. There are some great DIY wine rack ideas. I love this one because it optimizes space and also allows you to show off the full bottles and see the labels immediately. If you decide to go the DIY-route, make sure you use a sturdy wood, at least 3/4th" to 1" thick to make sure it can hold the weight of wine bottles.
Wine Accessories and Decor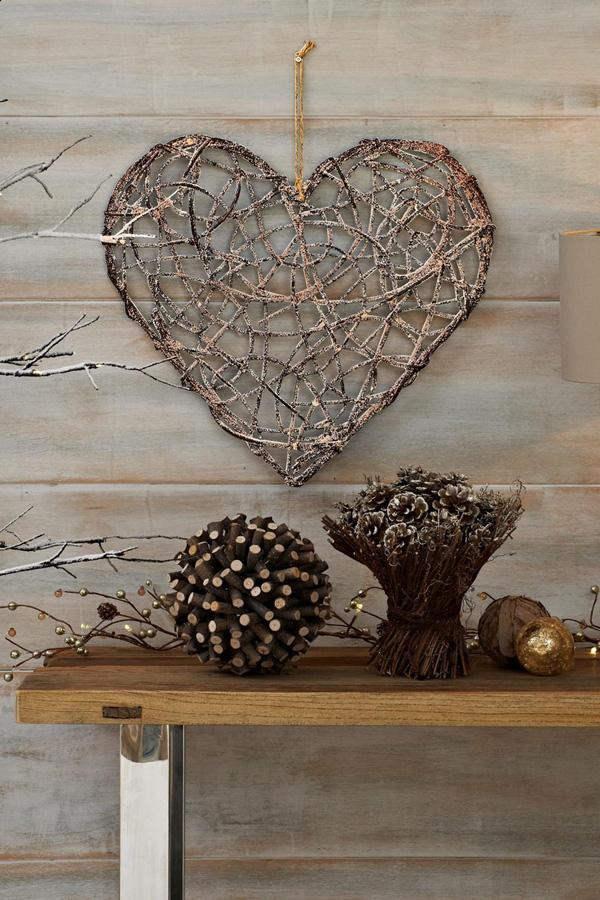 There's more to making your wine storage space look great than just your wine rack! Think about how you can really communicate your taste and passion for wine. Maybe you could think about making some wall décor with your used wine corks, like the picture above!
These are just some of the things to consider when building a beautiful wine storage space. Feel free to share your experiences showing off your wine collection in the comments!
Author Bio: Jeriann Watkins is a writer and wine drinker at dairyairhead.com. Jeriann creates lamps and other crafts out of bottles, so is forever looking for efficient and attractive ways to store her leftover wine bottles!