Sometimes, following a hunch can be a really, really good thing.  A few months ago we featured an Envolve Pinot Noir for our Special Selections Wine Club members.  It's a really, really good wine.  Of course, the winemaker and winery have gotten a bit famous because of reality television but something really stuck out to us about wine-it was simply a wonderful expression of Pinot Noir from Sonoma.  It also happened to be a single vineyard that we later learned sits just outside of town of Sebastapol.  After a conversation or two with Envolve, they said that contacting Mike at Lennox Vineyards made some sense since he's both a nice guy and more than willing to show anyone around the property who's interested.
We're always interested.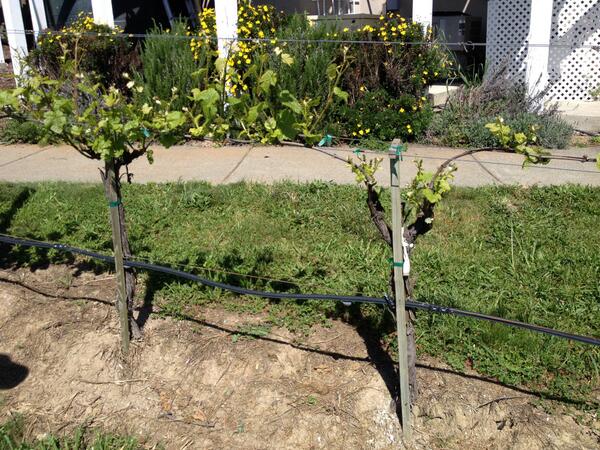 A bit more research and we found out something interesting.  First, Lennox Vineyards (like other, more well known examples like Sangiacomo) is actually more than one vineyard site.
There's a 8 acre parcel that's off site and where Lennox makes its name, a few miles from the home vineyard and house.
Mike's 2/3rd acre home vineyard sits directly behind the house that's shown on his bottle.
This is where the action is so to speak.  Yes, the family lives on site and yes, it's different living in western Sonoma County.  When you walk to dinner, do you do so through vineyards?  Me either! Sebastopol is an interesting place on a number of levels, it's where locals in the Bay Area say that the Berkeley Hippies of the '60's chose to retire.  The town with its idyllic climate and small town feel, while still being only an hour from San Francisco continues to be a haven for those whom have made their money elsewhere, like owner and winemaker Mike Bielawski who comes from a bio-tech background into the world of wine. Mike still does some side consulting work and his wife still works in the industry, helping to make one of the most interesting micro winery setups that I've run into.
Outside of the home office that sits at the back end of the microproduction winery, this is a property completely devoted to wine.  The microwinery itself appears to be about two times the size of the average garage and feels significantly bigger.  There's space for the ubiquitous chemistry set that surprises every first time winery visitor, space for fermentation, barrel storage and finished case storage in the back.  For every aspiring vintner in the world, this is a space that's both large enough to produce a few hundred cases per year, but also small enough to not incurr the wrath of neighbors due to its construction, or your significant other for taking over the majority of the property.
Did I mention that Lennox is a really, really pretty spot?  It's nestled underneath the rolling hills that start to seperate the famed Russian River Valley from the more harsh coastal weather to the west and the vineyard itself is lined with trees. Mike and I spent some time talking about the issues he runs into from the birds which both enjoy nesting in those trees, as well as using them as a launching off point, to enjoy grapes for a midmorning snack. Netting is your friend when you have only an acre of vines, most of which lay on the prolifery of a larger and unassociated vineyard (making Pinot at twice the cost I must add). Mike mentioned that he needs to net while the larger vineyard does not, because the birds instinctively don't want to travel too far from the tree line.  The netting is another added and unexpected cost-thus is farming grapes so I'm told.
One thing that stands out to me about Lennox is that the flavor profile of the wine, is consistent irregardless of winemaker.  Yields are significantly smaller than you'd expect given the locaiton at only 3 tons per acre whcih generally speaking leads to more nuanced flavors. I think Mike's attention to detail in the vineyard helps to create a true terrior, or sense of place to these wines.  Lennox is a vineyard that is worth your attention both to follow Mike's path in winemaking, but also to compare and contrast how other winemakers use the fruit.  I've learned a ton about wine and winemaker preferences and choices by comparing Pinot's from Lennox Vineyards to each other.
We will, occasionally send out a sample of wine that we like for others to taste.  Here's what some others had to say about Lennox:
"The Pinot Noir had a delicate flavor with a fresh and fruity aroma of pomegranate with a hint of plum and nutmeg. It was very pleasant tasting and would pair nicely with chicken or grilled salmon. " Thoughts in Progress
"I turned up my nose at the second bottle as I'm a self-proclaimed ABC girl. For those of you that don't know, ABC stands for Anything But Chardonnay drinker. However, I knew that I had to at least try a taste of the boutique Lennox Vineyards Chardonnay. Surprised by the crisp, summer flavors, I was expecting something overly heavy and oaky, like the hundreds of typical buttery, oaky, and heavy Chardonnays of countless cocktail hours past. As I drank my second glass, I read about its small vineyard on the Southern outreaches of Russian River Valley." Ms Traveling Pants
If you're looking for a true micro production winery-give Lennox a look and watch for its continued inclusion in other high end Russian River wine programs.