Uncorked Ventures Blog
Consilience pic.twitter.com/bsVLLe1rTZ

— Mark Aselstine (@wineclubguy) July 11, 2014
A new thing at the Wine Bloggers Conference. 5 minutes to write about a wine. First up Consilience Viognier. More acidity on the Viognier than I am accustomed. Perfect for spicy food and fairly priced at $24
A new feature here on Uncorked Ventures, I'm going to take a few moments each month and talk about my favorite blog posts, or social media shares from some of the wine blogs that I read consistently. Also with the annual Wine Bloggers Conference starting on Thursday and running through Sunday, I thought it was an appropiate time to run a short version of what's happening in the world of wine writing online. Instead of explaining, I'll get right to the list from June 2014:
BrixChicks: I'm going to cheat a bit off the bat and use a post from July 1st because it's about Riesling and brings up an interesting point. Sweet Riesling's seem to be popular with people when they first begin drinking wine and then for a long time, people completely forget about the grape. Then as people, be it as a consumer, industry professional, or blogger, tend to circle back to the grape and enjoy the wide variety of styles that can be created. It was fun to read Liza's take on Riesling.
Wine Folly: Madeline might have the most hyped wine blog in cyberspace right now because of her ability to talk in a no nonsense way, while adding are what are without a doubt, the best infographics in wine. Madeline had an interesting take on why people should consuder drinking Pinotage. The grape's something of a joke at Uncorked Ventures, mainly because my brother in law Matt hates it so much. Give Pinotage a chance Matt, give it a chance.
Luscious Lushes: Thea was the first local wine blogger that I met and has been the most welcoming over the subsequent years, so I'm predisposed to really enjoy her writing. I met the Bucher Vineyards folks at Pinot Days a couple of weeks ago in San Francisco and came away impressed with both the wines, as well as the people behind them, but more importantly the entry helps to show why I enjoy Thea's writing so much. There's a level of industry knowledge and research here that's unusual even among serious wine bloggers.
Chasing the Vine: Lauren's a professional wine writer and soon to be established Sommelier, both of which come through on Chasing the Vine. Lauren is definitely well integrated into the wine commmunity and from posts about Turkish wine regions, to those about trips to taste 500 wines in Austria, hers is a slightly different take on a variety of subjects within the world of wine. More about Austrian wine here.
Frugal Wine Snob: With 4 kids, a glass of wine every few days seems like an essential part of living and that's coming from someone who loves being a parent. I enjoy reading the Frugal Wine Snob because Carolyn does such a good job at walking the tight rope of professional and average consumer at the same time. It's just a consistently, enjoyable and interesting read. Since we all know that wine and food go together so well, check out the post about cuisine from the Catalan region.
Traveling Wine Chick: It's a new blog (to me, at least) and I don't mind sharing the thoughts of what some would term a competitor here (Beth runs the Anderson Conn Valley wine club) because the topics range from some local stuff from Napa, to much further afield. I really enjoyed Beth's willingness to share her personal story about starting her blog three years ago and moving from Virginia to the west coast and persuing a job in the wine industry.
Uncorked Wine Travels: Uncorked is a pretty common moniker in the world of wine, so we didn't exactly differentiate ourselves with that bit of great naming, did we? Here's a wine blog which sounds bit similar and I really enjoy Deborah's informative winery profiles. Check out a post on Cambria a winery we've had in our wine clubs in the past and that we generally enjoy.
We'll include this in our section about wine jargon, but we've had quite a number of customers ask about how wine is actually being made in Napa Valley and elsewhere. Much to the chagrin of many winemakers, the idea of a Negociant is not only alive and well in California, but it is growing.
How's it going? This is Mark Aselstine with Uncorked Ventures. One of that's come up a few times over the last couple of days is the term "negociant." First -- yes, it's French and it means "merchant" in France. And in California and especially in Napa Valley, it might be the dirtiest word around.

So, the theory on a negociant is, it's somebody who buys either grapes or even more accurately bulk juice; assembles it, usually with the help of a winemaker; and then releases it under their own label.

Cameron Hughes, is a great example of somebody who produces some pretty darned good wine at a really fair price, using the tactic. It's something that we're starting to see more. And it's really one that starts to blur the line between what is a bulk wine, and what is a winery wine.

So, that's what a negociant is. There are a few big ones, and there's more on the way. Thanks again.
Sometimes, following a hunch can be a really, really good thing. A few months ago we featured an Envolve Pinot Noir for our Special Selections Wine Club members. It's a really, really good wine. Of course, the winemaker and winery have gotten a bit famous because of reality television but something really stuck out to us about wine-it was simply a wonderful expression of Pinot Noir from Sonoma. It also happened to be a single vineyard that we later learned sits just outside of town of Sebastapol. After a conversation or two with Envolve, they said that contacting Mike at Lennox Vineyards made some sense since he's both a nice guy and more than willing to show anyone around the property who's interested.
We're always interested.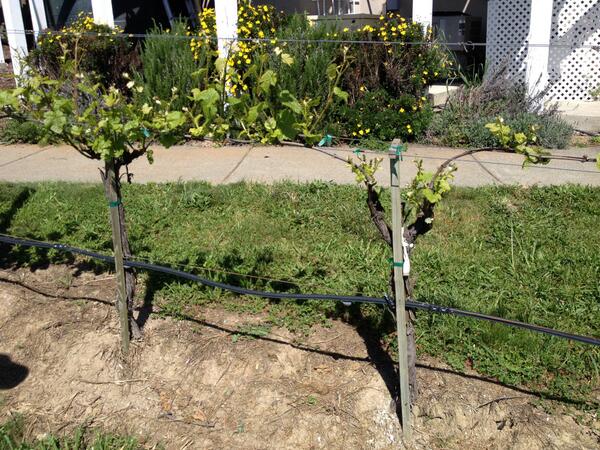 A bit more research and we found out something interesting. First, Lennox Vineyards (like other, more well known examples like Sangiacomo) is actually more than one vineyard site.
There's a 8 acre parcel that's off site and where Lennox makes its name, a few miles from the home vineyard and house.
Mike's 2/3rd acre home vineyard sits directly behind the house that's shown on his bottle.
This is where the action is so to speak. Yes, the family lives on site and yes, it's different living in western Sonoma County. When you walk to dinner, do you do so through vineyards? Me either! Sebastopol is an interesting place on a number of levels, it's where locals in the Bay Area say that the Berkeley Hippies of the '60's chose to retire. The town with its idyllic climate and small town feel, while still being only an hour from San Francisco continues to be a haven for those whom have made their money elsewhere, like owner and winemaker Mike Bielawski who comes from a bio-tech background into the world of wine. Mike still does some side consulting work and his wife still works in the industry, helping to make one of the most interesting micro winery setups that I've run into.
Outside of the home office that sits at the back end of the microproduction winery, this is a property completely devoted to wine. The microwinery itself appears to be about two times the size of the average garage and feels significantly bigger. There's space for the ubiquitous chemistry set that surprises every first time winery visitor, space for fermentation, barrel storage and finished case storage in the back. For every aspiring vintner in the world, this is a space that's both large enough to produce a few hundred cases per year, but also small enough to not incurr the wrath of neighbors due to its construction, or your significant other for taking over the majority of the property.
Did I mention that Lennox is a really, really pretty spot? It's nestled underneath the rolling hills that start to seperate the famed Russian River Valley from the more harsh coastal weather to the west and the vineyard itself is lined with trees. Mike and I spent some time talking about the issues he runs into from the birds which both enjoy nesting in those trees, as well as using them as a launching off point, to enjoy grapes for a midmorning snack. Netting is your friend when you have only an acre of vines, most of which lay on the prolifery of a larger and unassociated vineyard (making Pinot at twice the cost I must add). Mike mentioned that he needs to net while the larger vineyard does not, because the birds instinctively don't want to travel too far from the tree line. The netting is another added and unexpected cost-thus is farming grapes so I'm told.
One thing that stands out to me about Lennox is that the flavor profile of the wine, is consistent irregardless of winemaker. Yields are significantly smaller than you'd expect given the locaiton at only 3 tons per acre whcih generally speaking leads to more nuanced flavors. I think Mike's attention to detail in the vineyard helps to create a true terrior, or sense of place to these wines. Lennox is a vineyard that is worth your attention both to follow Mike's path in winemaking, but also to compare and contrast how other winemakers use the fruit. I've learned a ton about wine and winemaker preferences and choices by comparing Pinot's from Lennox Vineyards to each other.
We will, occasionally send out a sample of wine that we like for others to taste. Here's what some others had to say about Lennox:
"The Pinot Noir had a delicate flavor with a fresh and fruity aroma of pomegranate with a hint of plum and nutmeg. It was very pleasant tasting and would pair nicely with chicken or grilled salmon. " Thoughts in Progress
"I turned up my nose at the second bottle as I'm a self-proclaimed ABC girl. For those of you that don't know, ABC stands for Anything But Chardonnay drinker. However, I knew that I had to at least try a taste of the boutique Lennox Vineyards Chardonnay. Surprised by the crisp, summer flavors, I was expecting something overly heavy and oaky, like the hundreds of typical buttery, oaky, and heavy Chardonnays of countless cocktail hours past. As I drank my second glass, I read about its small vineyard on the Southern outreaches of Russian River Valley." Ms Traveling Pants
If you're looking for a true micro production winery-give Lennox a look and watch for its continued inclusion in other high end Russian River wine programs.
How are you doing? This is Mark Aselstine with Uncorked Ventures. So I had a customer ask a fairly interesting question the other day. They wanted to know if I thought that medals awarded at state fairs and other wine competition were important and if you saw a winery advertising those results, if they mattered? We got 17 gold medals this last summer season, if that was something that was indicative of a quality winery?
Do medals from a wine competition matter?

The short answer is, no. I mean here's the longer answer of why. The California State Fair is one of the mostly highly thought of wine competitions every summer. The results were recently posted over the last few days. So about 3,000 wines were entered, about 2200 of which walked away with a medal of one type or another. So you're talking close to 70% earned a medal.

So if you think that 7 out of 10 wines are something that should be marketed with a medal then sure they can be a good way to judge wines but in essence that's just too many. They're not doing a good enough job at judging quality. There's some problems with critics scores in ways if you want a high score with wine advocate there's a certain type of wine that you probably, need to make, a certain style at least and there's some complaints about that, but at the same time certainly, wine advocate, wine spectator, wine enthusiast, a lot of the other critics even some of the online guys. PinotFile does a great job. They're not scoring 7 out of 10 if something's kind of worthwhile. So that's a better place to look.

So yeah, the short answer is, don't bother with medals. They frankly, don't mean anything.
Thanks a lot. Have a good one.
Recent Posts
November 6, 2015

November 2, 2015

November 2, 2015

November 1, 2015

October 29, 2015

October 28, 2015

October 22, 2015

October 22, 2015

October 15, 2015

October 13, 2015
Blog Categories