Uncorked Ventures Blog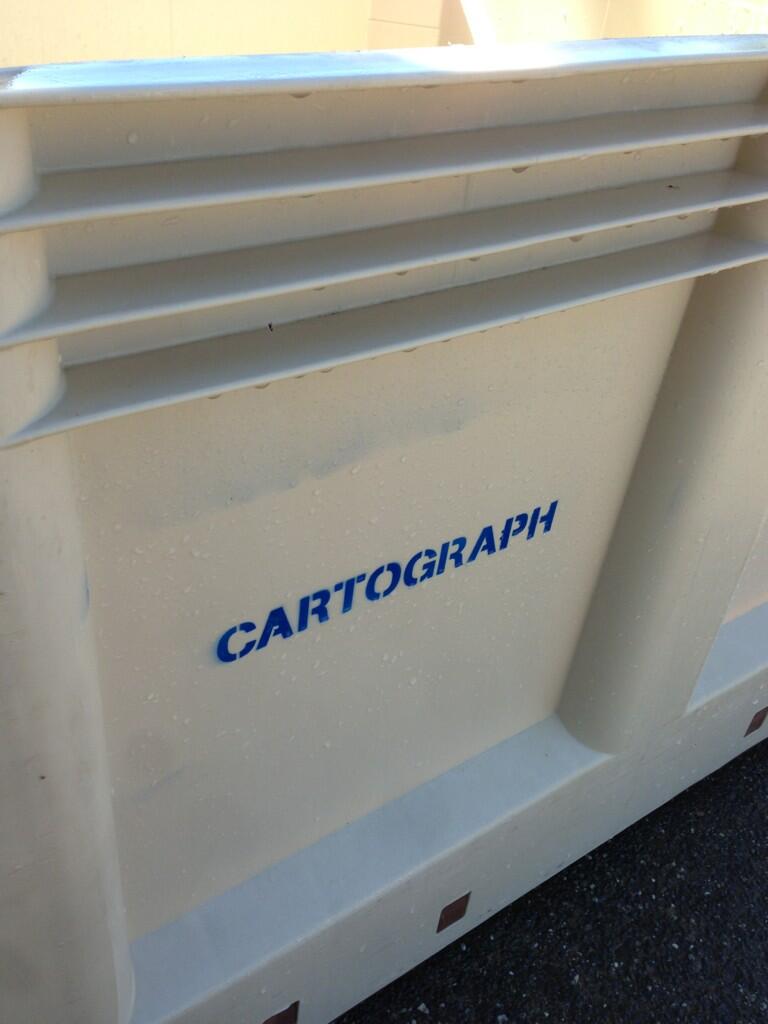 A few quick harvest notes that we ran into here in the middle of August:
-Our friend William Allen of his own 2 Shepherds label already picked up some Lodi Cinsault
-Alan Baker, the winemaker over at his own Cartograph label is still getting ready. Evidently those cooler weather Sonoma Pinot vineyards are only now starting to consider ripening. Thanks for the pic Alan!
-Further south in Ballard Canyon (ok, ok Santa Barbara county next to Los Olivos) Stolpman Vineyards is following the tried and true tradition of driving their vineyard staff crazy by harvesting at the coolest temperatures possible ie at night. Thanks for the image Peter!
Lastly, I'll be joining a few Sonoma wineries for harvest in the coming weeks, so we should have much more information, pictures and video as time goes by.
In my continued efforts to introduce our readers to wineries which took part in the recent Family Winemakers tasting at Ft Mason, I present Canihan Family Wine Cellars.
The Canihan wine story is an interesting one, which dates well back to the early 20th century in pre WWI Europe. August Siegrist came to America (and San Francisco specifically) from Switzerland where he had seen his mother work with vines and their resulting wine, as well as the locally driven Swiss food culture. Luckily for August San Francisco has long been home to something similar and he found a home in the city as a baker and eventually as a restaurateur.
For many families the story might stop there, or someone working at a social media startup might tell his friends that his dad used to want to make wine, instead the dream continued through the work of Siegrist's son in law, Bill Canihan Sr.
Canihan Sr purchased a 60 acre piece in Sonoma and farmed it organically for over 20 years before planting vines, the idea was to give the earth enough time to make the ground suitable for grapes again. Given some of the issues I've had with my own backyard garden after the previous residents of our home let it basically go to it's wild roots, I have a better appreciation for this type of patience than I might have only a year ago.
Finally, 1998 saw the plantings of the biodynamic and organic Canihan Family Vineyard.
More recently, I've run into a few quotes and some information on Bill Canihan which makes him seem like someone who is going to end up being an asset to the Sonoma wine industry. First, we was a commercial mortgage banker in San Francisco for some time. While it isn't often talked about outside the wine industry, more and more winemakers that I talk to regularly have spoken about the need for financing and how difficult that financing is to receive after the economic collapse. I'm seeing truly memorable wines being made using kickstarter campaigns and having more and more wineries simply struggling to have any type of financing in place. While I understand from a banker's perspective that wine doesn't always seem like a good bet, I do think it is a good bet that some of these estate's turn a tidy profit on a yearly basis, don't you think?
Canihan helped to explain the situation faced by a small vineyard in an interview with Sonoma News:
"In 2008," Canihan reveals, "vineyard management alone cost us $30 a bottle. The lowest we've done is $19 a bottle. That's just vineyard management costs. It doesn't include bottles, labels or foil."
To put that price point in perspective, most average consumers won't pay more than $30 for a bottle of Pinot Noir, no matter who makes it and no matter where it comes from. It should help to explain the difficulty that high end wine estate's like Canihan face when trying to enter into a market dominated by larger scale operations, capable of producing drinkable, but certainly not memorable $10 Pinot Noir from generic California vineyards.
Ok, so Canihan is likely to be a resource for other growers, vintners, winemakers and vineyard owners in regard to both financing new projects, as well as turning those projects profitable. There's certainly more though.
We hear consistently, ad nauseum really about how great wine is made in the vineyard. We often hear wineries and winemakers talk at length about how their vineyard is affected by small changes in location compared to their neighbors as well as any number of other important points about their location and how that affects the grapes that end up in your glass. What I don't often see are all of these wineries completely willing to buy into the concept and farm their land both organically as well as biodynamically.
One aspect of conventional farming that I think many of us can appreciate after spending any amount of time trying to grow food in our backyard is that after you use fertilizer or some other type of intervention, it seemingly becomes more important to use others. In essence there is a constant and uphill fight between fertilizer makers, or simply put the chemical industry and pests or nature itself. Frankly, I don't believe it is a fight that we can win forever, which is why we're seeing regular farms employ crop rotation among other more natural ways of helping the soil retain vital nutrients like nitrogen.
In any case, before I get going too far along a philosophical journey here about organic and biodynamic farming helping to preserve these outstanding vineyards for future generations, I should talk a bit about Canihan's wine since that's truly why everyone is here.
Here's the first thing you're going to notice when you open either a Pinot Noir or Syrah from the Canihan Family Vineyard: Spice. Like a lot of spice on the nose. Really, a lot and some of the most interesting and complex set of flavors you'll ever smell from either of those two varietals. This is where I think you see the meticulous farming practices truly coming into play, while so many people talk about how Pinot and Syrah both can have spicy notes on the nose, we lose those sensations with too many wines. They're present here in abundance and if you drink a lot of Pinot Noir, you'll realize that you've been missing something along the way.
In the mouth the spice, interestingly, fades more into the background and I'm left with a simple yet straightforward assessment. This is a rounder version of Pinot Noir, consistent with what you'd expect from a warm California vineyard. That being said, while it isn't austere, it doesn't reach a level of feeling over extracted either. This is a true Pinot Noir producer and when it comes to their Exuberance Pinot Noir-a true reminder of what Sonoma County is capable of when treated with enough care.
It's also a winery you're likely to hear about more in the future, this type of care and concern for a vineyard doesn't allow for giant leaps in production or the sourcing of inferior product for greater profit. In short Canihan Family Vineyards is likely just beginning its journey to being a Sonoma Pinot producer that we can count on to produce a world class wine in every vintage.
Ancient Oak Cellars is an interesting, high end winery located on 4th Street in downtown Santa Rosa. We originally found Ancient Oak while doing some research about an outstanding bottle of Pinot Noir that we received from La Crema which included a percentage of grapes from Siebert Vineyard, a vineyard in the Russian River Valley that we hadn't previously heard of.
Of course, whenever we taste grapes from a new vineyard in Sonoma especially, we want to know more and frankly want to find out if those same grapes end up as part of a wine program, suitable for our limited production wine clubs. La Crema makes some great wine to be sure, but they're probably too well known for us to include in any of our monthly wine club options.
In any case, when we looked into the Siebert Vineyard we immediately noticed that it was owned by Ken and Melissa Siebert, who happen to also own Ancient Oak Cellars. The first thing that struck us about Ancient Oak is that their pricing seems more than reasonable given the quality, background of their winemaker (more to come in a moment) and the location of their vineyard. With their own single vineyard bottlings priced under $40 for Pinot Noir and more generic Russian River labeled wines for only $25, these are fair prices, if not prices which leave at least a few dollars on the table. Ken and Melisa's story isn't highly unusual for the Bay Area, having made their fortune's elsewhere (Ken was an architect, Melissa having worked in a variety of high tech lab's) there is a pull of sorts in regard to the wine industry. Ken's grandfather also owned and planted the Siebert Vineyard which carries his last name, so perhaps joining the wine industry in one way or another was bound to happen at some point. Plus, living in the east bay myself, it's hard not to enjoy seeing a winery owned by a Berkeley native.
Kent Barthman is the winemaker for Ancient Oak and brings an interesting pedigree to the job, having spent many years making wine at Rutherford Hill. Rutherford Hill is an interesting name in my home, simply because their Napa Valley Merlot is the first specific wine that I remember truly enjoying with my wife in our early 20's. For years, those Rutherford Hill Merlot's were required purchases from Costco in our house. Barthman's background also fits something we often look for, quality winemakers taking on smaller projects. I think it's an easy explanation, but when a winemaker is tasked with making a few hundred thousand cases per year, that's a lot of work and a lot of delegating to others. Often times we find winemakers from these larger producers, enjoy having a more hands on approach at smaller vintners. Barthman's skills as a winemaker aren't at question, even before mentioning his job as assistant winemaker at Far Niente and the fruit coming from the Russian River Valley is at least as highly respected. Putting the two together is exactly what most consumers would love to be able to drink every time they open a bottle of wine.
Additionally, I found the information about the growers on Siebert Vineyard rather touching. Almost every winery owner and winemaker that I've ever talked to tells me that the wine starts in the vineyard. There is often a disconnect though because winery website's often tell you little about the people putting those long hours into cultivating the grapes in the vineyard. That sense of place and an understanding that everyone involved in the journey of making wine is important is one of the reasons that we will continue to support organizations like Stolpman Vineyards on the central coast and will continue looking for other socially conscious like minded companies.
At Ancient Oaks Amulfo Becerra is largely responsible for their grape cultivation. Amulfo is a native of Michoacan Mexico (about 100 miles east of the coastal resort town of Puerto Vallarta) and deserves a mention in this space given that he's pruning these vines by hand. When the French talk about having a sense of place and history in their wine, Amulfo is someone helping to create that in this small Russian River Valley vineyard.
Lastly, I wanted to mention that the Siebert Vineyard is part of the Santa Rosa and Russian River Valley greenbelt. Here in the east bay the greenbelt means a small strip of pavement and grass below the BART path, that carries a dibious safety record in some parts, but further north that means a strip of connected farm land and vineyards which allow a continual space for wildlife to pass through in a more natural progression. The wine industry, perhaps more so than most others, benefits from being good stewards of the environment by being able to produce better wine from the same land, so we can appreciate any winery willing to take concrete and long term.
Overall, Ancient Oaks is a winery that wine drinkers, especially those on the continual search for cooler climate Pinot Noir should be aware of. They're also a supporter of the Family Winemakers organization, which does an incredible amount of quality work so their sense of place doesn't only extend to their vineyard or to Sonoma County.
Brix Chicks
We added a new link to our blogroll this afternoon, Liza and others from Brix Chicks.
Let's start with some of the basics, Brix Chicks is a blog written by three different women, one of which Liza is friends with one of our favorite bloggers, Thea from Luschious Lushes.
While I don't doubt that one of the reasons I enjoy reading Brix Chicks is that Liza is local to me here in the east bay region of San Francisco (see posts on the Oakland restaurant A16 and Cornology on Bay Street, which my wife finds randomly strewn about our home office on the occasion my toddler needs something from Old Navy or Gap) but I also enjoy reading the blog because it brings a set of different perspectives and palate's together in one place.
While I might be able to do without so many recent posts on Rose, it's only hit 70 a couple of days in a row now at my house, therefore the thought of it being warm enough for me to want to open a Rose, is too painful and frustrating to consider, the blog mixes a nice assortment of wine reviews and information on wine regions, usually with a bit of history or interesting facts mixed in.
When I read wine blogs, I don't want them to have only tasting notes included and the writing style and tone at Brix Chicks is something that I enjoy. I think you will as well.
It's been said by people much more intelligent than I, that life is what happens while you're busy making plans.
That might sum up the past week or two around here. It's been busy on a number of levels, but I haven't forgotten my commitment to write about the wine industry's growing connection with Stanford's famed business school.
That Hand of God article is coming tomorrow, but before it gets too late in the week I also wanted to remind those of you in the San Francisco area that Family Winemakers takes place on Saturday and Sunday, at Ft. Mason of course.
Saturday 1-3pm is trade only, but the general public can enter from 3-6pm as well.
Sunday is a trade only tasting from 1-5pm and is the day I'll be attending.
Plan on finding parking early and far away from Ft. Mason since parking is always a disaster during Family Winemakers and try to buy your ticket online, well before hand. Lines for ticketing and check-in can often eat up a significant amount of your time at the event at least partially because everyone is a volunteer.
Recent Posts
September 30, 2015

September 24, 2015

September 24, 2015

September 23, 2015

(2 Comments)

September 22, 2015

September 21, 2015

September 11, 2015

September 2, 2015

August 25, 2015

August 24, 2015
Blog Categories
Blog Archives
Our Writers
Blog Roll