Uncorked Ventures Blog
Sometimes, following a hunch can be a really, really good thing. A few months ago we featured an Envolve Pinot Noir for our Special Selections Wine Club members. It's a really, really good wine. Of course, the winemaker and winery have gotten a bit famous because of reality television but something really stuck out to us about wine-it was simply a wonderful expression of Pinot Noir from Sonoma. It also happened to be a single vineyard that we later learned sits just outside of town of Sebastapol. After a conversation or two with Envolve, they said that contacting Mike at Lennox Vineyards made some sense since he's both a nice guy and more than willing to show anyone around the property who's interested.
We're always interested.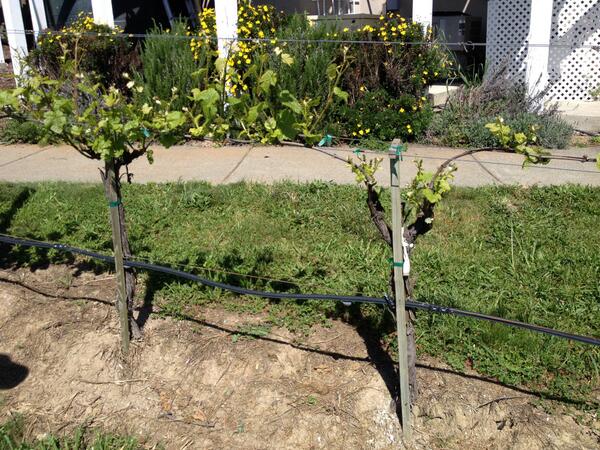 A bit more research and we found out something interesting. First, Lennox Vineyards (like other, more well known examples like Sangiacomo) is actually more than one vineyard site.
There's a 8 acre parcel that's off site and where Lennox makes its name, a few miles from the home vineyard and house.
Mike's 2/3rd acre home vineyard sits directly behind the house that's shown on his bottle.
This is where the action is so to speak. Yes, the family lives on site and yes, it's different living in western Sonoma County. When you walk to dinner, do you do so through vineyards? Me either! Sebastopol is an interesting place on a number of levels, it's where locals in the Bay Area say that the Berkeley Hippies of the '60's chose to retire. The town with its idyllic climate and small town feel, while still being only an hour from San Francisco continues to be a haven for those whom have made their money elsewhere, like owner and winemaker Mike Bielawski who comes from a bio-tech background into the world of wine. Mike still does some side consulting work and his wife still works in the industry, helping to make one of the most interesting micro winery setups that I've run into.
Outside of the home office that sits at the back end of the microproduction winery, this is a property completely devoted to wine. The microwinery itself appears to be about two times the size of the average garage and feels significantly bigger. There's space for the ubiquitous chemistry set that surprises every first time winery visitor, space for fermentation, barrel storage and finished case storage in the back. For every aspiring vintner in the world, this is a space that's both large enough to produce a few hundred cases per year, but also small enough to not incurr the wrath of neighbors due to its construction, or your significant other for taking over the majority of the property.
Did I mention that Lennox is a really, really pretty spot? It's nestled underneath the rolling hills that start to seperate the famed Russian River Valley from the more harsh coastal weather to the west and the vineyard itself is lined with trees. Mike and I spent some time talking about the issues he runs into from the birds which both enjoy nesting in those trees, as well as using them as a launching off point, to enjoy grapes for a midmorning snack. Netting is your friend when you have only an acre of vines, most of which lay on the prolifery of a larger and unassociated vineyard (making Pinot at twice the cost I must add). Mike mentioned that he needs to net while the larger vineyard does not, because the birds instinctively don't want to travel too far from the tree line. The netting is another added and unexpected cost-thus is farming grapes so I'm told.
One thing that stands out to me about Lennox is that the flavor profile of the wine, is consistent irregardless of winemaker. Yields are significantly smaller than you'd expect given the locaiton at only 3 tons per acre whcih generally speaking leads to more nuanced flavors. I think Mike's attention to detail in the vineyard helps to create a true terrior, or sense of place to these wines. Lennox is a vineyard that is worth your attention both to follow Mike's path in winemaking, but also to compare and contrast how other winemakers use the fruit. I've learned a ton about wine and winemaker preferences and choices by comparing Pinot's from Lennox Vineyards to each other.
We will, occasionally send out a sample of wine that we like for others to taste. Here's what some others had to say about Lennox:
"The Pinot Noir had a delicate flavor with a fresh and fruity aroma of pomegranate with a hint of plum and nutmeg. It was very pleasant tasting and would pair nicely with chicken or grilled salmon. " Thoughts in Progress
"I turned up my nose at the second bottle as I'm a self-proclaimed ABC girl. For those of you that don't know, ABC stands for Anything But Chardonnay drinker. However, I knew that I had to at least try a taste of the boutique Lennox Vineyards Chardonnay. Surprised by the crisp, summer flavors, I was expecting something overly heavy and oaky, like the hundreds of typical buttery, oaky, and heavy Chardonnays of countless cocktail hours past. As I drank my second glass, I read about its small vineyard on the Southern outreaches of Russian River Valley." Ms Traveling Pants
If you're looking for a true micro production winery-give Lennox a look and watch for its continued inclusion in other high end Russian River wine programs.
How are you doing? This is Mark Aselstine with Uncorked Ventures. So I had a customer ask a fairly interesting question the other day. They wanted to know if I thought that medals awarded at state fairs and other wine competition were important and if you saw a winery advertising those results, if they mattered? We got 17 gold medals this last summer season, if that was something that was indicative of a quality winery?
Do medals from a wine competition matter?

The short answer is, no. I mean here's the longer answer of why. The California State Fair is one of the mostly highly thought of wine competitions every summer. The results were recently posted over the last few days. So about 3,000 wines were entered, about 2200 of which walked away with a medal of one type or another. So you're talking close to 70% earned a medal.

So if you think that 7 out of 10 wines are something that should be marketed with a medal then sure they can be a good way to judge wines but in essence that's just too many. They're not doing a good enough job at judging quality. There's some problems with critics scores in ways if you want a high score with wine advocate there's a certain type of wine that you probably, need to make, a certain style at least and there's some complaints about that, but at the same time certainly, wine advocate, wine spectator, wine enthusiast, a lot of the other critics even some of the online guys. PinotFile does a great job. They're not scoring 7 out of 10 if something's kind of worthwhile. So that's a better place to look.

So yeah, the short answer is, don't bother with medals. They frankly, don't mean anything.
Thanks a lot. Have a good one.
How you doing? Mark Aselstine with Uncorked Ventures. A couple things going on today in the world of wine. First, the Russian River Valley continues to have ongoing conversations about the legality of water restrictions and water use. The Environmental Protection Agency has been hearing cases since '08 about how the farmers have damaged Salmon populations by using water and therefore draining the river down. It actually occurs more in cold weather than in warm.

That's actually a really common misconception is that everybody thinks that, you know, like your backyard garden, the wine growers need to water when it's really hot outside. You know, that happens a little bit but a large portions of the Russian River still dry farm during the summer. Cold is actually a larger concern for most of them, so that's when you really start to see the water use kind of stuff come up. And so that's kind of an ongoing issue.

Speaking of the Russian River Valley, coming up on Saturday, the 21st of this month, the city of San Francisco hosts the 10th Annual Pinot Days. It's a collection of Pinot Noir producers. You know a lot of them are California based, but then you also get some folks from Burgundy coming out, as well as Oregon and New Zealand.

So, if you have a chance to check Pinot Days out when they come to your city, be it New York, Chicago, San Francisco, LA, it's well worth the trip. Like most of these large scale tastings in the wine industry, there's a large number of events both the day of and in the week, both preceding and a few days after. In any case, Mark Aselstine , Uncorked Ventures, thanks for taking a listen.
Hey again, Mark Aselstine with Uncorked Ventures.

One of the neat things that came across the last few days . . . Sonoma's has the one of the most confusing and complex sets of AVAs, really in the world. There's little, if nothing that you can tell about a wine just based on the AVA in Sonoma. To that end, we've been trying to create a clickable map with some information on each AVA.

As an example, the Sonoma Coast AVA is massive and you can't really tell is this a cool climate vineyard or is this a warmer climate vineyard just by saying "Sonoma Coast." We have some assumptions based on that, but those aren't necessarily always true. The Russian River Valley also kind of in the same kind of thing, if you're right next to the river, kind of by Copain or Artessa, Mark David, some of those wineries, it's a pretty cool climate growing region. If you move out into the hills above Sebastopol, it still counts as Russian River. You find Lennox Vineyards, which we've done a couple wines from lately. That's pretty warm.

So Sonoma is working to at least divvy up the Russian River Valley into what sounds like between four and eight smaller AVAs that actually tell you a little bit more about the wine. Of course, the problem with that is that makes it even more confusing for consumers.

Personally, I wish they would just scrap the whole system in Sonoma and just start over. I think there are some logical ways to divide stuff up that just can't happen based on how it's set up right now.

Sonoma is a really large area in and of itself, so you have stuff like the Sangiacomo Vineyard, which is technically Sonoma, but it's actually in three or four different locations throughout Sonoma. So just hearing "Sangiacomo," then you have to ask, "Hey, which one actually is this?"

So its complex, we're trying to figure out a way to make it a little bit less complex for consumers. Sonoma is trying to figure it out. I don't know if they're there yet, but they're working on it. And I think that's a good thing. I think there's some pressure on them too, because Napa is pretty easy to understand. And that's the elephant in the room.

In any case, Mark Aselstine from Uncorked Ventures, and I hope everyone is having a good week.
How are you doing? Mark Aselstine here with Uncorked Ventures. We just had a couple things to talk about this morning. First is a bottle of wine that's actually showing up in our Explorations Wine Club this month. We'll get you a little bit closer. Great video work by me, I'm sure. It's a Vina Robles Red 4 red wine blend, which is Paso Robles, which I think is interesting kind of on two levels.

First and foremost, it's just a really good wine. And it's about $20 in Price Point. Wine Enthusiast Magazine put it at 90 points and editor's choice. I couldn't agree more. It's an interesting Syrah, Mourvedre, Grenache Petite Sirah blend in almost equal parts, more or less, of all four. It's an easy-drinking red. It pairs well with kind of what we're getting into; summer, barbecues, and all that kind of stuff.

And then the winery itself, Vina Robles, is interesting in that it's kind of Old Paso almost. And I feel almost bad saying that because there's just so much hype around Paso Robles right now. And all of it is well deserved, but that's all West Side Paso, which is a little bit cooler, and that's kind of the way the industry's going, is a little bit cooler vineyard sites, a little bit denser, thicker wines.

Warmer sites, they harvest earlier, and sometimes the wines are a little bit thinner because they don't hang quite as long. That's probably apparent with this Red 4. It's a really good offering, and I also think it shows that, you know, people are too quick to discount the areas and the regions of more established sites that are no longer being talked about by the general public, or talked about in wine magazines. Vina Robles does just an excellent job making wines and they make it at a variety of price points. And they're worth a chance to spend some time if you ever find yourself in Paso. And it is East Side Paso, and there's some other good stuff going on over there.

But you know, these days I don't think everybody makes it east of the 101 Freeway, which is just too bad. So in any case, Mark Aselstine on Uncorked Ventures, that's Vina Robles, it's an R-4 red wine blend from Paso Robles, East Side Paso. There's more to see there than you might first think.

Thanks again.
Recent Posts
November 6, 2015

November 2, 2015

November 2, 2015

November 1, 2015

October 29, 2015

October 28, 2015

October 22, 2015

October 22, 2015

October 15, 2015

October 13, 2015
Blog Categories